Rebrain helps to treat Parkinson's disease and EssentiAl Tremor
RebrAIn offers a technology that helps neurosurgeons identifying brain regions to operate on patients with Parkinson's disease and essential tremor. Using an Artificial Intelligence algorithm and a collaborative registry of health data, RebrAIn simplifies and standardizes procedures with the aim of increasing the number of treated patients worldwide.
Testimony of a ParkinsonIAN Patient operated on with the help of Rebrain'S technology
Testimony of an Essential Tremor Patient operated on with the help of Rebrain'S technology
Rebrain, a Bordeaux French Tech startup with global ambitions!
Rebrain learns from success to reproduce success
Rebrain Technology
Is based on clinical data from operated patients
Uses Artificial Intelligence to reproduce success
Works with the simplest MRI sequences
Provides marked MRI in the regions of interest
The Rebrain Service
Processes the MRI on the cloud
Allows a secure exchange of health data in compliance with the GDPR
Hosts data on HDS (Health Data Hosting) certified servers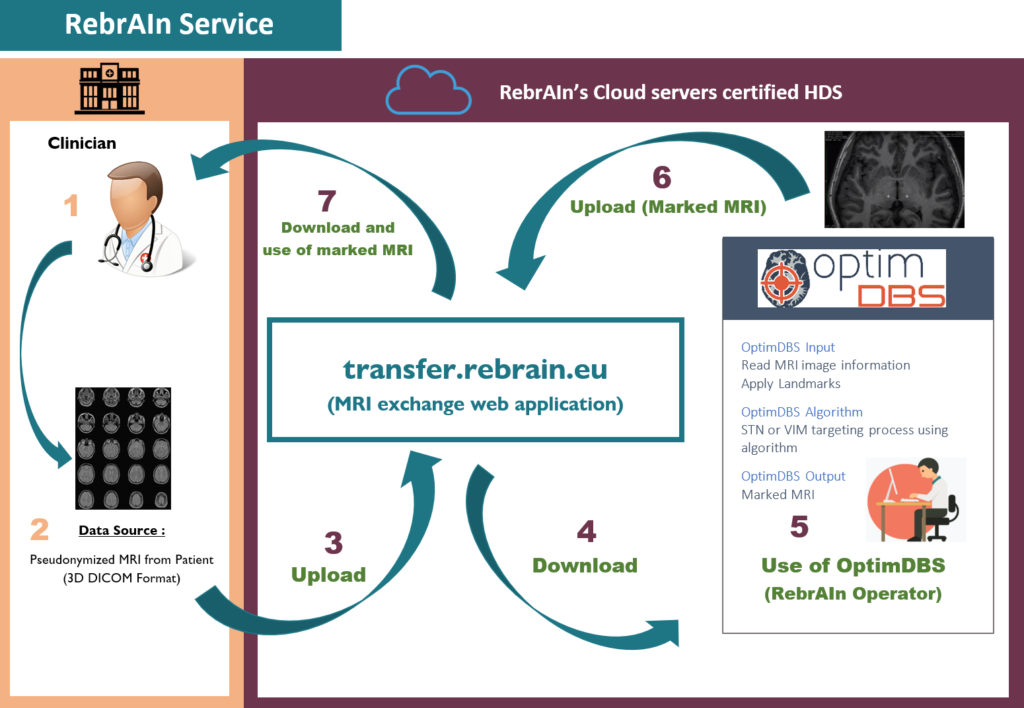 From facial recognition to brain recognition
Starting from a T1, 1.5 T MRI without injection, the OptimDBS software re-axes the MRI then recognizes 18 remarkable points per side in a semi-automatic way. After having "recognized" the brain as facial recognition systems recognize faces, it is then possible to apply the mathematical metamodel based on artificial intelligence which predicts the targets and marks them on the MRI. It is this marked MRI that is sent back to the healthcare centers to help in planning neurosurgical procedures.
ReBrain aims to simplify & standardize neurosurgical procedures Aiming to treat more patients worldwide.
Co-created and managed by the CEO,
Emmanuel Cuny
, Professor of Neurosurgery at Bordeaux University Hospital and member of the Supervisory Board of the French Medium sized company Vygon and its Technical Director,
Nejib Zemzemi
, Doctor in Applied Mathematics and Scientific Computing and researcher at Inria, the startup is at the heart of Bordeaux's scientific expertise.
Discover here our latest technological and medical breakthroughs
Become an actor in medical innovation!
Beyond the financial aspect, we are looking for investors who believe in our innovation and its positive impact in the advancement against neurodegenerative diseases. Investing in ReBrain means joining its ecosystem and participating in medical breakthroughs and patients' well-being.
To find out more about the financial and commercial aspects of the startup, the project's technological innovation, the opportunities at stake and the global market size, we invite you to contact us so that we can present you our strategy.